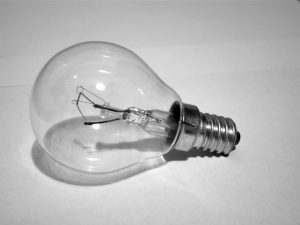 Before we go farther with this post, we want to point out that troubleshooting is much different from repair.
Electrical work is something you need to leave to professionals, so if you have major issues with your indoor lighting you can resolve with basic steps, you want to have actual licensed electricians to do the work.
Amateur tampering with indoor lighting, particularly with the wiring, can create major safety hazards leading to electrical fires and parts of a house catching on fire
Now that we've got that important warning out of the way, let's check out your home's lighting issues and see what you can do about them.
Dimming or flickering lights
This is one of the most common concerns people have with their lighting, and it can come from various sources. First check if the lightbulb is tightly screwed into the socket. Try turning on and off the electrical circuit for the light at the electrical panel.
Check on the switch to see if it's working correctly. You may also have a lightbulb that's the wrong wattage for the socket: you'll find the wattage info on the bulb and on the socket itself so you can check.
If the lights are dimming or flickering when other powered appliances come on (such as the AC), you may need to have some type of surge protector installed. Call electricians if you can't find the trouble, since you may have faulty wiring.
Lights won't turn on
When you first notice that a light won't come on when you flip the switch, check if the lightbulb has burned out. Then go to the electrical panel for your home to see if the circuit breaker for that part of the house has tripped. Reset it if it has.
(If the breaker continues to trip from the light, then call an electrician to look at it.) The problem could also be from a recessed socket tab, which means the socket won't actually make contact with the bulb.
You can solve this by turning off the bulb and using a small wooden stick (like a popsicle stick) to bend the tab upward about an eighth of an inch.
Lightbulbs are burning out too fast
With standard incandescent lights, you can expect a bulb to last for up to three years. LED lights have a much larger lifespan, sometimes lasting 11 years. If you've noticed that lightbulbs are burning out much faster than this, and it's not just a problem with an individual light, there are several possibilities. You could be putting in lightbulbs with wattage that's too low for the socket.
Double check on the socket's wattage to see if this is the case. The fixture might be loose and vibrating, such as a bulb in the ceiling fan. The vibration from the fan will cause damage to the filaments in the bulb and lead to it failing early. You'll need to have professionals examine the fixture to see if it can be better secured.
If you have any concerns about your indoor lighting in Clarence, NY, trust our team!
Scherer Electric Is Western New York's Favorite Electrician! Contact us for your indoor and outdoor lighting needs.