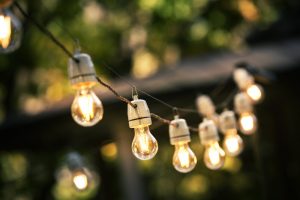 The end of the year is always a "Season of Lights," no matter which holidays you're celebrating. It's only natural as the weather turns colder and the night falls earlier that people want to feel brightness and cheer all around them, and this means festive lighting displays both indoors and outdoors.
We want you and your family to have a bright and wonderful winter holiday season. We also want you to be safe!
Our team of electricians in Orchard Park, NY and throughout Western New York have tips for ways to keep your house safe during the holidays, free from fire danger and electrical shortages.
Don't overload outlets
When you start putting up strings of lights in your house or around a tree, you'll put more strain on the electrical system—especially if you plug too many lights into one outlet. Always use power strips for additional light strings, not octopus plugs, so you won't create a danger of causing a short, and potentially a fire, in an overtaxed outlet.
Keep decorations away from heat sources
Decorating the fireplace can look lovely, but it's less lovely if that wreath is hanging so low it may catch fire! Keep the decorations at least three feet from heat sources, especially open flames like candles and fireplaces.
Check the smoke detectors
We recommend testing your smoke detectors every six months, and right before the winter is one of the best times to ensure these vital alarms are working right. You may need to put in fresh batteries for some detectors, or even have them replaced.
Turn off lighted decorations before bedtime
Don't leave either indoor or outdoor lights burning after everyone in the house has gone to bed. This both helps with safety and lowers your electrical bills. Many lights come with timer features, so make sure you know how to program them so this safety step is automated for you.
Use LED candles
Burning candles bring a special ambience to the season. But they also present a serious fire danger, and it's far too easy to forget a lit candle and leave it burning unattended among all the holiday bustle. We recommend purchasing battery-powered LED candles as a substitute. These candles come in many decorative models and can simulate the flickering of real flame to an amazing degree. They're also inexpensive to purchase and you can find them in many stores and online retailers.
If you don't have enough outlets, call us to add some!
If you find that you have to resort to multiple extension cords to get all the lighting you need at the holidays, we recommend taking a different route: arrange with our electricians to add more outlets. Lack of outlets is a common issue in older homes, and it's a good excuse to get that upgrade, both for safety and convenience. And, while we're here, a reminder that if you don't have GFCI and AFCI outlets installed in your home, they're one of the best tools to avoid electrical shocks and electrical fires. We can install these for you as well.
Scherer Electric Is Western New York's Favorite Electrician! Call us when you need special help with your indoor and outdoor lighting.