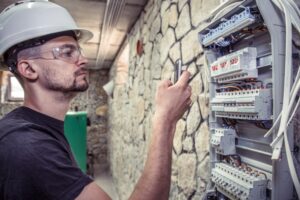 Among the many services we offer to our customers in Western New York, one of the most common is repairing or replacing residential electrical panels. The electrical panel is a critical component of any home's electrical system, but homeowners often take it for granted—at least until something goes wrong, which could be as simple as a tripped circuit breaker or as dangerous as an electrical fire.
In this post, we're going to provide you with some important information about your electrical panel and why it's important to always rely on professional electricians in Orchard Park, NY when you need service for yours.
The Role of the Electrical Panel
You may already have a sense of what the electrical panel does for your home. Think of it as the hub and "switching yard" for all the electricity that enters your home before it heads out to the different circuits. The panel ensures that voltage flows efficiently and safely to all outlets and devices in the house. As voltage enters the panel, it divides the voltage into the various different circuits that serve the home.
The panel also serves to protect the electrical system in case of a voltage overload: a breaker will trip because of an overload, cutting off the flow of electricity to that circuit until it is reset.
How Is an Electrical Panel Different From a Fuse Box?
The term electrical panel and fuse box are often used interchangeably. They do serve identical purposes: route electricity throughout the house and cut off circuits when overloaded.
However, they do so in different ways. An electrical panel contains circuit breakers that trip when there's a voltage overload, and these can then be reset. A fuse box has individual fuses that melt when the voltage spikes, which cuts off electrical flow. The fuse must then be replaced.
Electrical panels have superseded fuse boxes. You'll still find fuse boxes in older homes, but we strongly recommend that any house that still has one have it replaced with a modern electrical panel. Electrical panels can handle larger electrical loads and are safer.
You Must Have Professionals for Electrical Panel Service
We can't emphasize this strongly enough: you must have licensed electricians handle any service for an electrical panel: installations, repairs, upgrades, maintenance, etc.
Benefits of Professional Electrical Panel Services
Safety: Keeping a home' electrical system working safely is always the top priority of professional electricians. They have the training and equipment to perform all work safely and avoid accidents.
Accuracy: Only licensed electricians can accurately assess panel troubles and determine the best course of action, such as repairs or a full replacement.
Efficiency: Professional electricians get any job done quickly but without cutting corners or taking potentially harmful shortcuts.
Code Compliance: Licensed electricians must understand the local application of the National Electrical Code (NEC) so they can ensure a home is code-compliant after working on the electrical panel.
Guidance: If you need help understanding what type of panel is best for your needs, pros can provide you with all the information necessary.
Scherer Electric Is Western New York's Favorite Electrician! Call us today to schedule service for your electrical panel.