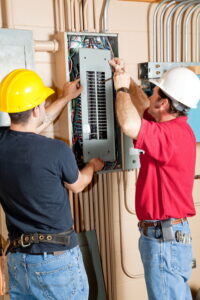 The electrical panel for your home is the central hub for all the electrical current entering your home from the grid. It divides the current into circuits and distributes it to the rest of your house.
And we've got news for you: the panel in your home may need to retire and get an upgrade!
We replace electrical panels in Orchard Park, NY and elsewhere in Western New York. Below are several of the situations where it's definitely time to have a panel upgrade. We'll help you get the ideal new panel to serve your home.
You Have a Fuse Box
Fuse boxes are long out of date, but you can still find them in some homes built before 1970. The trouble with fuse boxes is that they're inconvenient (you need to put in a new fuse each time one burns out) and can only handle current electrical loads with extremely large fuses, which are a fire hazard. Get a modern breaker panel upgrade as soon as you can if you've got an old fuse box.
The Panel Is More Than 15 Years Old
Electrical panels are durable, but they do have service life limitations. Although they can sometimes make it to 20 years, we don't recommend pushing one past 15 years. It's not only that the panel will wear down and be at greater risk of breakers tripping all the time, or not tripping at all, which is worse. It's that the panel will be out of date compared to modern electrical loads.
You're Having Electrical Capacity Issues in the House
Are the lights in your house flickering? Do the electrical panel's breakers trip so regularly that you feel you personally know the electrical panel? This isn't right—and it usually signals that the electrical load in your home is too much more than the panel can carry. The change in how much electricity a home uses has increased over just the last 10 years, and your panel may not be up to the current electrical load.
The Panel Has Suffered Damage
We recommend you take a regular look at the panel to see if it's suffered damage. Look for dark scorch marks which indicate where an electrical fire has occurred. See if there's an acrid odor from the panel. If you know something has gone wrong with the panel recently, that's enough reason to contact electricians to examine it and see if it's time to upgrade to a new one.
You Have a Federal Pacific Electrical Panel
This is a specific situation, but it's unfortunately a common one. Federal Pacific Electrical panels were installed in millions of homes from the 1950s through the 1990s before the company making them went out of business. The panels have a much higher failure rate than other panels, making them potential fire hazards. Although they were never officially recalled, we recommend replacing yours if you have one. You'll see the name "Federal Pacific Electrical" on the inside of the panel.
Scherer Electric Is Western New York's Favorite Electrician! Call us today to speak with us about panel upgrades—this is one of our specialities!