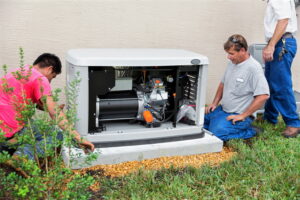 We strongly advise our customers to install a whole-house generator to protect their homes in case of extended blackouts. When one of these generators receives the proper care, it can defend a home from long-term power losses for years and provide peace of mind even when the generator isn't in use.
You may need to schedule generator repair in Buffalo, NY at some point to ensure your whole-house generator is ready to work when you need it. This presents a bit of a dilemma: you don't run your generator often, so how can you tell when it needs repairs?
We'll look below at six signs that can warn you of repair issues, but we also recommend that you test your generator once a month. This will give you an opportunity to notice many of these signs before the generator has to run to deal with an actual emergency. Always schedule annual professional maintenance as well.
#1. Strange noises
When you test your generator, listen to the unit for any noises that are out of the ordinary. These include grinding, shrieking, or clicking. You'll want technicians to check out unusual noises to see what's wrong.
#2. Strange odors
A malfunctioning generator can also give off strange smells. The two odors to specifically look out for are electrical burning and gas (depending on what type of fuel the generator burns to run). Electrical burning often warns of dying motors or damaged wiring, while gas smells can warn of potentially hazardous leaks. Shut the generator off and call us for assistance.
#3. Inconsistent electrical power
If a generator receives a proper installation and regular maintenance, it will deliver a steady electrical supply to your house. If you notice flickering lights or appliances that don't operate when the generator is running, it's experiencing an interruption in load. Please don't think you can just get by without repair service—the generator may be headed for a full breakdown.
#4. Visible damage to the generator
When you test the generator, take a close look at its exterior. You're looking for cracks, dents, water damage, corrosion, or other signs of damage from weather and the elements. Something that seems minor on the exterior may warn of bigger damage on the interior.
#5. Leaking around the generator
As a generator grows older, it can start to leak fuel and other fluids. You'll want to have our technicians look at this to see if we can repair the generator or if the unit has gotten too old to remain reliable and needs a replacement.
#6. No electricity at all
Yes, this is an obvious problem, which is why we saved it for last. Your generator may run but not deliver any electricity to the house. There's likely a problem with the connection to the home's electrical system, and this isn't something you want to investigate on your own. For safety reasons, and to ensure your generator gets back to work, call our electricians. We back up all our work with a 100% satisfaction guarantee.
Scherer Electric Is Western New York's Favorite Electrician! Call us to handle any generator services you may need, from new installations to repairs.