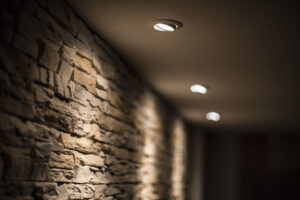 One of the most cost-effective ways to change the look of your home without having to resort to expensive remodeling is with an update to your indoor lighting in East Aurora, NY. We don't mean just upgrading old incandescent lights with LED lights—although this is a fantastic idea and will help you save money on your electrical bills. We mean changing the type of lights you have.
If you have overhead lighting that leaves certain areas of your house either too dim or too overlit, or you don't like the space consumption of using older pendant lights, you have several options to change your home's indoor lighting. The two prominent ones are recessed lighting and track lighting. We'll look at the pros and cons of each of these options.
Recessed lighting
You know how recessed lighting works: the lights are placed into the ceiling itself, often hiding the bulb from view unless you're directly beneath the light.
The Pros
A good choice if you're looking to save space and want a clean, unobstructed appearance for a room.
Recessed lighting covers a greater area than track lighting because it floods wider.
The lighting creates a subtle look that most people won't notice—aside from having good illumination.
The Cons
This is a more expensive option for installation compared to track lighting because more construction work needs to be done on the ceiling.
Recessed lights have a fixed facing and cannot be changed once they are installed.
If you're looking for a creative new design, recessed lighting doesn't offer you as many options or flexibility.
Track Lighting
Track lighting is a kind of pendant lighting, but much higher on the ceiling. A track attaches to the ceiling and the light fixtures fit into the track. 
The Pros
Track lighting is usually about half the price for installation compared to recessed lighting.
They're an excellent option for lighting spaces with high ceilings and eliminating shadows in rooms.
Track lighting is ideal for task lighting and accent lighting.
The fixtures' facing and direction can be changed for more flexibility.
The Cons
Track lighting isn't as effective for smaller spaces and lower ceilings because they have difficulty creating a general fill light.
Track lighting often can't stand on its own as the only lighting in a large room.
They require more maintenance to keep them clean and free of dust.
And More
This doesn't exhaust the choices you have for making upgrades to your indoor lighting. If you aren't certain what's best for your house, call our expert electricians. They're familiar with all types of lighting upgrades and retrofits, both indoors and outdoors.
In many cases, your decision about lighting may come down to simple aesthetics—how the different lights look in your home. There aren't hard and fast rules about any of this, and our licensed electricians will help you navigate the options and find what works best for your home.
Scherer Electric Is Western New York's Favorite Electrician! Reach out to us today to learn more about how we can update your indoor lighting.