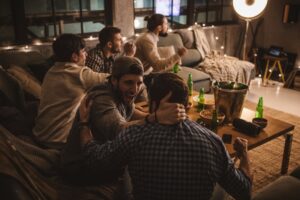 So you've decided it's time to fulfill the dream of having your very own home theater system in Buffalo, NY. You've bought the many components that are involved: the television or projector, the 4K Ultra Blu-ray player, the cable box, the stereo system, and a ton of speakers.
You've watched some YouTube videos and you think you can DIY it yourself. Right? Well, we'd say you've got just about everything right with one exception: this is no DIY job.
When you've invested so much money in achieving a top-of-the-line home theater system, why risk your enjoyment of that investment by attempting a DIY installation? If you really want to get the most out of the equipment you've purchased, take that last extra step and hire a professional electrician to install it for you. Let's go over all the benefits of hiring a professional electrician for home theater installation.
Ensure Your Home's Wiring Can Handle the Increased Demand
Building the ultimate home theater system involves adding a lot of components that all run on electricity. A professional electrician can assess everything that's going to be installed and make sure your home's wiring can handle the demands of the new system.
We can make sure that there's an evenly balanced power load to ensure your new home theater system will be able to handle the demand without tripping the circuit breakers. If anything needs to be hard-wired, this is something we can handle along with any other upgrades that may be needed.
When you start messing with your home's wiring, it's a recipe for disaster. Don't risk your new equipment, your family's safety, and the investment in your home by getting in over your head when it comes to wiring. When you hire a professional electrician, you'll know your home (and your awesome new home theater!) are in the hands of people who are trained to work with circuits, electricity, and wiring.
Maximize Aesthetics by Hiding the Cords
You want your new home theater to be an enjoyable space. Part of your enjoyment of it will come from feeling that it's aesthetically pleasing to look at. And one of the biggest eyesores in a home is having too many cables and cords everywhere.
There's always the option to choose wireless components, but that will result in lesser-quality equipment and a sub-par home theater experience. When you hire a professional electrician, we'll take care of hiding all the cords and wires for you. In fact, we're really good at it. We can even install new outlets to create a clean, streamlined look.
The Bottom Line
If you're in the market for the best possible home theater in Buffalo, make sure you call our team. We can help you with everything from your flat-screen TV installation to the wiring and lighting. We're exceptionally proud of our electrical services.
We spend a lot of time making certain that they're perfect so that our customers are always 100% satisfied. You don't have to cut corners and try to install a theater in your home on your own—we provide great service at an affordable price.
Scherer Electric Is Western New York's Favorite Electrician! Call us whenever you need service from licensed electricians.