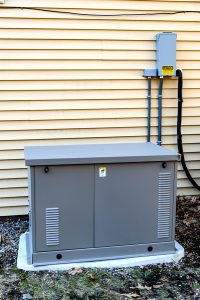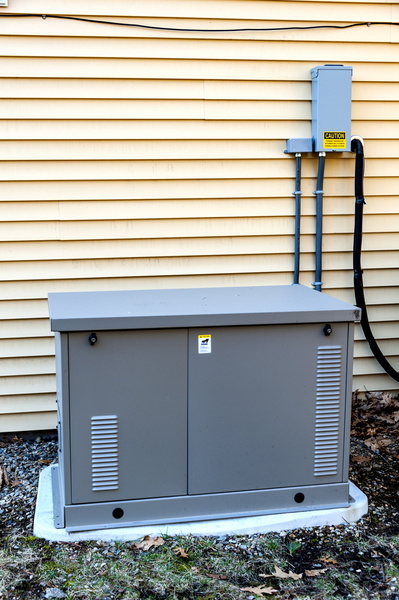 New York State got a bit … wet … this month. And whenever a major storm strikes the East Coast, it's an important reminder of how easily whole neighborhoods can lose electrical power for long stretches of time. Western New York is at high risk for extended power losses, and this is something we at Scherer Electric want to protect our customers from. We install whole-house generators to help homeowners make it through a power outage of any kind in safety and comfort.
But when it comes to generators, we often hear people say something like this: "What about just using a portable generator in Buffalo, NY? Do I really need to go with a full whole-house generator installation?"
Portable generators have their uses—such as on camping trips, or to keep in the car in case of emergencies. But if you want peace of mind about getting through an extended blackout in your house, a portable unit can't hold up to a permanent standby generator. We'll explain why.
Power
The most obvious difference between a portable generator and a whole-house generator is the amount of electrical power it can supply. Portable generators are limited to enough power to run several appliances and some of the lights; they can't handle the needs of an entire house, nor can they supply power for several days. A whole-house generator can, if necessary, deliver power to all parts of a house. You do have the option for a less powerful standby generator if you only want to power necessities, such as the HVAC system, refrigerators, and some lights.
Convenience
To use a portable generator, you have to wheel it out of storage, connect it to the electrical system through the electrical panel, and start it. A standby generator is ready to go whenever you need it. Many whole-house generator models are automatic: they switch on to supply the house with electricity as soon as an outage occurs, disconnecting the house from the grid and changing it over to the generator.
Fuel
You have more options for fuel types when you purchase a whole-house generator. Portable generators usually run on liquid propane, diesel, or gasoline. With a whole-house generator, you can use natural gas, which is piped directly to the generator with no need for you to worry about running out of heating oil. Natural gas also burns cleaner and is a less costly option.
Safety
A portable generator can be a safety hazard, since it creates combustion fumes inside a home. A whole-house generator is installed outside the house so it won't create any danger from toxic byproducts.
Leave the Hard Work to Us
Getting a whole-house generator doesn't have to be a huge burden for you: our electricians make it straightforward. You only have to talk to our licensed electricians and they'll find out the right type and power of generator to install for your home. They'll handle the installation, and before you know it you'll have the backup power you need for peace of mind around the year.
Scherer Electric is Western New York's Favorite Electrician! Call us today to learn more about installing a whole-house generator.