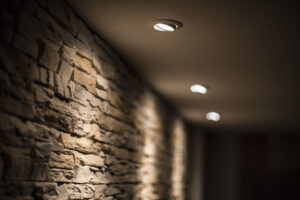 It's easy to take for granted the indoor lighting in your home and imagine that it's "fine" the way it is and there's not much room for improvement. But lighting styles and technology are constantly changing, and if your house is more than a decade old, there are probably several ways you can enjoy superior indoor lighting in Buffalo, NY.
The best way to improve your home's indoor lighting is with the assistance of our professional electricians. Below is a list of suggestions for indoor lighting to help you get started thinking about making upgrades and changes.
First, you may need a panel upgrade
Before you start considering making significant changes to your indoor lighting, we recommend you consider if your house's electrical panel can handle these changes. If you have a panel that's more than 10 years old, it may not be able to deal with an increased electrical load and could cause fire hazards. Our electricians can inspect your current panel and see if it needs to be replaced.
Use LED lights
When you update your indoor lighting, the best change you can make is to get rid of your older incandescent and fluorescent lights and replace them with LED (light-emitting diode) lights. LED lights can create illumination that's as attractive (if not more attractive) as your older bulbs, but which will significantly reduce your electrical bills. LED lights also last much longer (sometimes three to four times as long) and produce less heat inside your home. They're also more beneficial for the environment.
Have dimmers installed
Standard "on/off" lighting is a thing of the past. We recommend you have dimmers installed in the rooms that receive the most use so you can adjust the lighting to your needs as well as the mood. The two places where dimmer switches can help you the most are in the kitchen and the living room, both places where you'll find variable levels of lighting beneficial. You'll have a combination of customization and energy savings.
Switch between recessed and exposed lighting
This is a case where there's no specific "right" answer—it's a question of whether you want to switch from what you currently have. Your exposed lighting fixtures may be taking up space or look unattractive, and replacing them with recessed lighting will solve the problem. On the other hand, you may find your current recessed lighting is drab and you want some pizazz with exposed fixtures and hanging lighting. We can help you make either change.
Use accent lighting to beautify parts of the house
Are there features of your house you would like to draw attention to? Accent lighting is a great way to make your house look better without having to invest in expensive remodeling projects. Show off art pieces, make that nook look more beautiful—there's plenty you can do with the right accent lighting.
Safety lighting
You may wish to improve your lighting to help with indoor safety for people with mobility or vision issues. This is a practical change but can make an enormous difference in your home's accessibility. We can help make your home safer with better lighting.
Scherer Electric Is Western New York's Favorite Electrician! Talk to us today for ways to improve the lighting in your home!