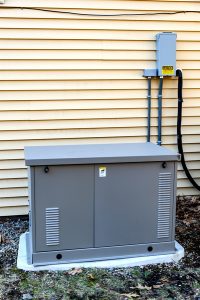 A whole-house generator is a great investment for a home in Western New York. Extended power outages have become a more common problem in the last two decades, and a whole-house generator is your best defense against future ones. The right generator can help your family stay comfortable and safe in a well-lit house until the power comes back on.
Whole-house generators aren't magical devices, of course, so they can't run forever. There are two ways of looking at the question in the title of this blog: "How long will a generator run when there's a power outage?" and "How long will a generator installation last before it needs to be replaced?" We'll look at both versions of the question so you know what to expect from a whole-house generator—whether you already own one or are considering getting one.
How Long Will the Generator Run When You Need It?
Your neighborhood experiences a black-out and your generator turns on to supply your household with electricity. Now … how long can the generator keep running?
The simple answer is that a generator can run for as long as it has fuel to power it. This is why the natural gas-powered generator is so popular: it has an unlimited supply of fuel coming to it from the municipal supply. The electrical power may be out, but the natural gas will still flow.
Not all homes can use a natural gas generator, however. For homes without a connection to a natural gas line, generators must run on a stored fuel supply. The most common type is the liquid propane generator, although some generators use diesel. How long the generator can run depends on how large a tank it has for fuel. A standard whole-house generator has a tank that will last for 24 hours, although there are larger ones. Of course, the tank may be partially emptied from the last power outage. We strongly recommend you have the tank refilled after any period of use.
How Long Will the Generator Last Over All?
The best way to measure a generator's service lifespan isn't with years—since you don't know how much you'll end up running your generator—but with hours of operation. Generators will have a listed estimated service life in hours. The standard range is 1,500 to 3,000 hours. Even if there isn't a power outage during the year, we recommend you run the generator at least once a month to ensure it's working, so you'll already get around 20 or so hours of use from it annually.
How to Get More Life From Your Whole-House Generator
If you looked at the above numbers, you might think you can easily get 30 to 40 years of service life from a generator. But this doesn't take into account issues with wear and lack of maintenance. To help get the most out of your generator, make sure you schedule regular maintenance for it from professionals each year. If there is any problem with your generator, always schedule prompt generator repair in Amherst, NY so it won't suffer from damage that might shorten its service life. Also keep the generator clear of snow and debris around the year so it has less stress when it needs to run.
Scherer Electric Is Western New York's Favorite Electrician! Call us when you need generator service: repairs, replacements, and more.