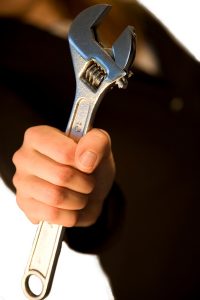 If you're asking this question, it's because you either have a suspicion that your current electrical panel is out of date, or you know it's out of date because it's failed on you. Perhaps you have an old fuse box, and now realize that this antiquated technology isn't viable anymore as you keep putting larger and larger fuses on it. Maybe you've found out about the danger of the Federal Electric panel installed in your house and want this fire hazard eliminated.
Great—replacing your electrical panel is almost certainly beneficial, and could even prevent a house fire. But if you came here looking for advice on how to install the panel yourself … well, we hope we stopped you before you wandered over to any hazardous recommendations on how you can do it yourself. Because even if you could, you shouldn't.
The Electrical Panel Is an Essential Part of Your House
We need to be clear about how important the electrical panel is. It's the location in your home where the electricity from the grid entering the building divides up into the various circuits serving the rest of the house. Not only does it divide up the electrical power, but it also shuts off power to circuits in case of an overload. Without a working panel, you have no electricity. With a panel that was poorly installed, you may have a danger in your house.
The Legal Issue
Before you go any further with the idea of installing the electrical panel yourself, know that it may be illegal where you live to do this work without an electrician's license. You may be able to apply for a permit in some jurisdictions to do the work, but in many cases, you flat-out aren't permitted. If you do install it yourself, your house may become uninsurable—along with all the other hazards.
The Safety Issue
Working with an electrical component of your house where all the electricity passes is potentially dangerous if you don't know what you're doing and don't have the right tools. And even if you disconnect the panel at the main breaker, parts of the panel are still live. It is not safe for you to undertake this work, no matter what guidelines or DIY videos you find online.
The Professionals Are Right Here!
So please … leave this work to licensed electricians. They'll do the work job and accurately, and most important of all, safely. You'll end up saving money compared to trying to do it yourself, so there's no reason at all to attempt to DIY this and put your house and your health on the line.
The electricians in Amherst, NY to handle an electrical panel replacement for your house are right here at Scherer Electric. We handle many panel installations each year—it's one of our main services, and we specialize in finding the right panels for homes. If you have any concerns about your panel, please call us and we can provide you with the help necessary for a safe home with an effective electrical system.
Scherer Electric is Western New York's favorite electrician! Schedule panel replacement with our electricians today.