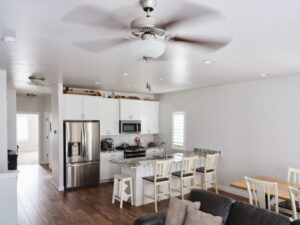 The idea of an "automated house" was once a common staple in science fiction (such as Ray Bradbury's "There Will Come Soft Rains," about an automated house that carries on long after its family has left). But home automation is now in the present and in many people's daily lives. Maybe you don't have robot servants scurrying around the house, but many of the systems in the home can now be connected through a single "smart" automation system.
To enjoy effective home automation, you'll need to have electricians in Clarence, NY install it. These are complex devices, and it takes skilled electricians to make them work the way homeowners want them to. Our team can help you find the right home automation and determine the parts of your home you want it to control.
If you're unsure about the value of installing home automation, we've listed five major benefits to consider.
1. Overall convenience
This is what any "automation" system offers: removing many of the basic chores of managing parts of your house and giving them to an advanced computer system. Systems are designed to work in conjunction with each other in a way that you couldn't handle manually. For example, you can have lights turn off a certain time and activate locks simultaneously.
2. Improved energy efficiency
Home automation creates greater precision control over several energy-consuming systems in your house. The place where automation shines the most for saving money is how it controls the HVAC system. Heating and cooling counts for the biggest chunk of your yearly energy consumption, and the smart technology in home automation can find ways to reduce energy use without sacrificing comfort.
3. Remote access
Home automation systems are installed as Wi-Fi devices. You can control the system from the standard panel(s) in the house, but you can also access the controls through a wireless connection. This allows you to not only adjust things such as lights, air conditioning, humidity, and security from anywhere in the home through your phone or tablet, but to have the same control from almost any place where you have an internet or satellite connection.
4. Safety
Home security systems have developed in tandem with home automation. You can have the system control safety lights, motion sensors, security cameras (indoors and outdoors) sent straight to your devices, and locks on doors. You'll enjoy great peace of mind with the power home automation gives to your security systems.
5. Knowledge
You can learn a great deal about activity and energy use in your house through home automation. These devices can provide you with reports on energy use, water use, temperature fluctuations, the energy consumption of lights, and more. You can quickly locate places where you can make improvements in your life and have a better understanding of where you spend your home management and upkeep budget. A home automation system is "knowledge" central for your house.
Want to know more? Call our team, and we'll be happy to provide you with all the details you need.
Scherer Electric is Western New York's Favorite Electrician! Call us today to schedule electrical service for your home.