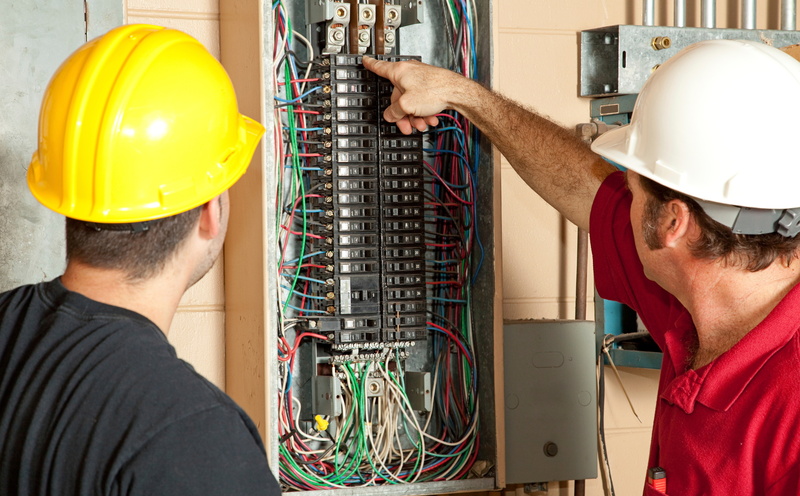 You need electrical work done. Maybe it's time to upgrade your old outlets to GFCI ones. Or you're having trouble with the electrical panel's circuit breakers tripping all the time. You might be looking to have whole-house surge protection installed. There are hundreds of different electrical repair, replacement, and installation jobs your home may require. Who do you hire to do them?
A local handyman who's a jack-of-trades and works for cheap.
A professional electrician.
The correct answer is the electrician. Every time, without exceptions! It's not just an issue of getting the job done correctly and on time, it's a matter of safety in your home and staying up to electrical codes.
Where the Handyman and the Professional Electrician Are Different
Many things separate a handyman/handywoman from a professional electrician. A professional has extensive training and access to the best tools. That alone makes a professional the best choice for any electric job. But the big difference we want to focus on that's different between the two is licensing. Professional electricians must have proper licensing from the state—that's what qualified them as professionals.
Why Licensing Is Important
In order to obtain a license, an electrical contractor must be knowledgeable about the local electrical code and have full insurance coverage. Insurance is vital to protect customers. If an unlicensed electrician suffers an injury on your property during a job, you may be liable for the injury. If an unlicensed electrician causes damage to your home during a job (and considering unlicensed electricians have less training, this is likely), your homeowner's insurance may not cover it and you'll be liable for costs.
In other words, if you hire a "handyman" to do electrical work on your house, you're running a serious financial risk. This is why the supposed savings a handyman offers aren't worth it. In fact, the reason handymen/handywomen can offer such a low-cost work is that they don't have to pay for licensing—and probably haven't paid for decent tools either. This is a true case of getting what you pay for.
Safety Reminder
Let's go back to the safety issue because you never want amateur work done on your home's electrical system. Small mistakes on repairing wires, installing outlets, upgrading panels, etc. can end up creating high voltage shock hazards and the increased chance of electrical fires. Licensed professional electricians make safety their #1 priority, and they're familiar with the local electrical code all buildings must meet to stay safe. Even if amateur work doesn't jeopardize your safety, it will jeopardize your convenience with failed lights, outlets, and overloaded appliances.
Never Take the Risk With Non-Professionals
We hope we've convinced you only to hire licensed electricians for any service you need for your home's electrical system. You can count on our team of electricians to see you receive the electrical services in Buffalo, NY that get the job done correctly and safely. We back up all our work with a 100% satisfaction guarantee, and you can reach us 24 hours a day, 7 days a week.
Scherer Electric is Western New York's Favorite Electrician. Get service from us today!