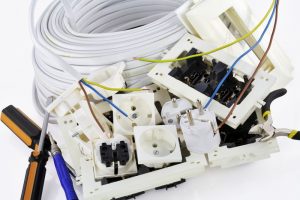 A home has two hard-working "circulatory systems," plumbing and electrical. Because both are mostly hidden from view even as they do essential work, it's easy for a homeowner to dismiss them as something that will last as long as the house does.
But that's not the case. When it comes to electrical wiring in Orchard Park, NY, you do need to have concerns about the age of the wiring. Not just for as long as you've been in the house, but for as long as the wiring has been in the house, period. If you live in a vintage home and the wiring has never had an update, it's important to know about how long the wiring can expect to endure.
The Life Expectancy of Wiring
We can't give an exact number of years, because wiring age also depend on other factors, such as the type of wiring. Wiring can last for decades in most situations, so you aren't looking at needing to re-wire your entire house every five years or so. As a general rule, home wiring can last past 50 years. But it can also be far less than this—for example, if the wiring was badly installed in the first place or amateur modifications were made to it at some point.
The metal of wiring is durable: copper can last for 100 years, and aluminum (not as common now) a bit shorter, around 80 years. This isn't the final word on wiring endurance, because the protective coating on the wire—if any!—affects wiring longevity as well.
One example is knob-and-tube wiring, which is an old type of residential wiring that we're familiar with because we have handled jobs to remediate it. This wiring system uses porcelain knobs to hold up bare copper wiring. The copper may last a long time, but that doesn't mean it should: this could be a major fire hazard.
If wires have cloth sheathing on them, which was prominent in homes before the 1970s, wire age is a bigger concern because the cloth can become frayed and turn brittle. If the wires are exposed, it creates the danger of shorts and arcing, which can damage the electrical system and cause fires.
Should You Have Your Wiring Checked
If your home is older than 25 years, yes, we recommend having our electricians examine the wiring, as well as your electrical panel. (Outdated panels are also a major problem.) We may only find a few problem spots that need replacements, and we can also give you an estimate on how long you can expect the wiring to last. If we find the wiring has serious safety issues, such as decaying sheathing, we may recommend more extensive rewiring as well as a panel upgrade if your house requires changing to 200 amp service.
We also recommend you arrange for wiring inspection when you are purchasing a house. You want to know if any of the previous owners attempted an amateur "patching" job that can create electrical hazards.
Scherer Electric is Western New York's Favorite Electrician. Call us today for questions about your home's wiring.