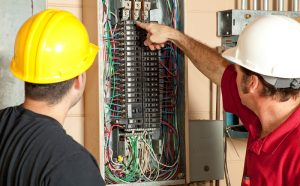 Do you have plans on making important upgrades to your house for 2022? We'd like to suggest looking into the possibility of getting a new electrical panel (circuit breaker box) this year. You may not need it, but if you do, you'll be glad to have this important job completed. Far too many homes have old and outdated panels in place, and the consequences can be large.
We are experts in all things electrical, and if you need to know if your electric panel in Buffalo, NY is ready for a replacement, you can trust us for honest answers and great service.
Why you want to keep your panel current
The electrical panel is a vital switching station for the electrical system in your house. It's the point where the incoming current from the municipal system divides into the various circuits for the rest of the house. The panel not only directs current to where it's needed, it also protects the electrical system with breakers that trip in case of a voltage overload.
Electrical use in homes has risen significantly in only the last ten years, which can make an electrical panel unable to handle the load. Panels also wear down over time, and an aging panel can become a hazard.
When is it time to replace your current panel?
If your house is more than ten years old and still has the same panel in place, we strongly recommend having our electricians inspect it. We can find out if it matches the current electrical demands in your house or if it has any faults.
You can also watch for signs of a panel that's out of date or damaged. Breakers that constantly trip warn that the panel can't handle the home's electrical needs. If you notice scorch marks on the breakers or hear a humming noise from the panel, shut off the electrical power and call us right away—the panel either needs repairs or a replacement.
Do not, under any circumstances, attempt to do a DIY panel replacement! This is a recipe for danger: an essential piece of electrical equipment such as this must have a licensed electrician install it. The risk of fires or high voltage shocks is too much, and you may void your home and fire insurance because of DIY work.
Watch out for this specific panel
There is one type of panel we strongly recommend you have replaced as soon as possible: a Federal Pacific Electrical panel. These panels were installed until the early '90s, when the manufacturer went out of business. These panels present significant fire hazards because their circuit breakers have a 25% failure rate. You can check your panel for the Federal Pacific Electrical name to easily identify it. If you do have one, call us right away to arrange to replace it. We've handled many Federal Pacific panel replacements, and we want to help you get rid of yours!
Scherer Electric is Western New York's Favorite Electrician. We specialize in electrical panel upgrades, so call us when you think you need a new panel.