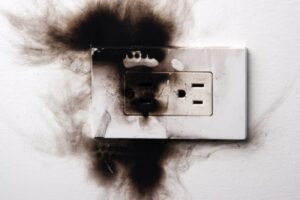 We're a professional electrical contractor, so it makes sense that we would recommend homeowners only call on Angola, NY electricians with licenses to solve their household electrical troubles. But we don't do this just because we want more business. We wouldn't be western New York's favorite electrician if all we cared about was picking up jobs. As experienced professionals, we understand the importance of the skill of a trained and licensed electrician when it comes to fixing household electrical problems. We're here to keep the lights on and keep our customers, their families, and their property safe.
For example, below are four electrical troubles you may encounter in your house that must receive service from a licensed electrician to diagnose and/or correct. Don't risk DIY work or calling an amateur "handyperson" for any of these situations. At best, the problem will remain. At worst … well, imagine whatever electrical disaster you wish, it's not an exaggeration.
ONE: Electrical costs have skyrocketed
Getting control of higher electrical bills often means changing some of your basic habits around the home: remembering to turn off lights in rooms that are empty, lowering thermostat settings, etc.
But when electrical costs take an abrupt and enormous rise, something is probably seriously awry in the building's electrical system. How to solve this? Get professional "detectives" assigned to the mystery: licensed electricians. They can track down the source and offer answers. Nobody else can. 
TWO: Acrid smells from outlets or switches
Or acrid electrical odors from anywhere in the house, but these are the places you are most likely to encounter this concern. First thing: stop using this outlet or switch. Don't fiddle with it to figure out what's wrong. We can tell you what's wrong: an electrical fire started in the wiring in the switch or outlet. The fixture needs to be replaced and the source of the short located. Only a pro can safely do this.
THREE: Constantly tripping breakers
Are you visiting your breaker panel so often that you feel like you should put a cot next to it where you can sleep? This is not normal. You may have wires that are fraying, an appliance that's broken, or the entire panel is failing and needs to be replaced. We often replace outdated or faulty electrical panels in homes, and the moment you think you might have a failing panel, call electricians to get this fixed before you have much bigger problems. A great electrical system begins with a great electrical panel.
FOUR: Flickering lights
No, it's not ghosts. It might be a problem with the electrical grid, in which case the power company should soon have it corrected. If this continues, you may be dealing with power surges coming from the appliances in the house or overwhelmed circuits. Don't ignore it, no matter what it might be. The fix may be small or may be large, but only professionals can find out what it is and get the job done.
Scherer Electric Is Western New York's Favorite Electrician! Schedule service with us today for all your electrical needs.